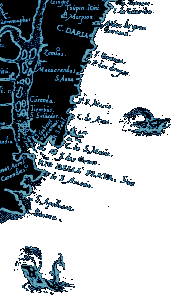 UNDER THE WATERS OF GALLE. (THE GALLE HARBOUR MARITIME ARCHAEOLOGICAL PROJECT)

Por Somasiri Devendra, B.A.(Cey)

RESUMEN:
El Galle Puerto Proyecto, mi asunto hoy, es ambicioso. Empezó casi informalmente, con el Prof. Ken McPherson de Universidad de Tecnología deCurtin, en Perth, en Australia Occidental, discutiendo con Dr. Roland de Silva y Prof. Senake Bandaranayaka, la posibilidad de entrenar arqueólogos de Sri Lanka en arqueología marítima. Un consorcio suelto de instituciones se formó con el CCF, el PGIAR y el Dept Arqueológico como los participantes de Sri Lanka y el Depto. Arqueológico Marítimo del Museo Marítimo australiano Occidental como los colaboradores extranjeros. Algunos fondos fueron encontrados por cada uno pero les faltaron dos tipos de personas: a saber, colegas buzos de Sri Lanka para bucear con los australianos y alguien que pudiera co-ordenar el proyecto del piloto. Los colegas buzos vinieron del Club Sub Aqua de Sri Lanka, guiados por Mr.Gihan Jayatilaka y el coordinador era yo, del Trust de Herencia Marítima de Sri Lanka, una asociación recientemente formada.

SUMMARY:
The Galle Harbour Project, my subject today, is an ambitious one. It began almost informally, with Prof. Ken McPherson of Curtin University of Technology, at Perth, in Western Australia, discussing with Dr. Roland de Silva and Prof. Senake Bandaranayaka, the possibility of training Sri Lankan archaeologists in maritime archaeology. A loose consortium of institutions was formed with the CCF, the PGIAR and the Archaeological Dept as the Sri Lankan participants and the Maritime Archaeological Dept. of the Western Australian Maritime Museum as the foreign collaborators. Some funds were found by each but they lacked two types of persons: namely, counterpart Sri Lankan divers to dive with the Australians and someone who could co-ordinate the pilot project. The counterpart divers came from the Sri Lanka Sub Aqua Club, led by Mr.Gihan Jayatilaka and the co-ordinator was myself, from the Maritime Heritage Trust of Sri Lanka, a newly formed association.